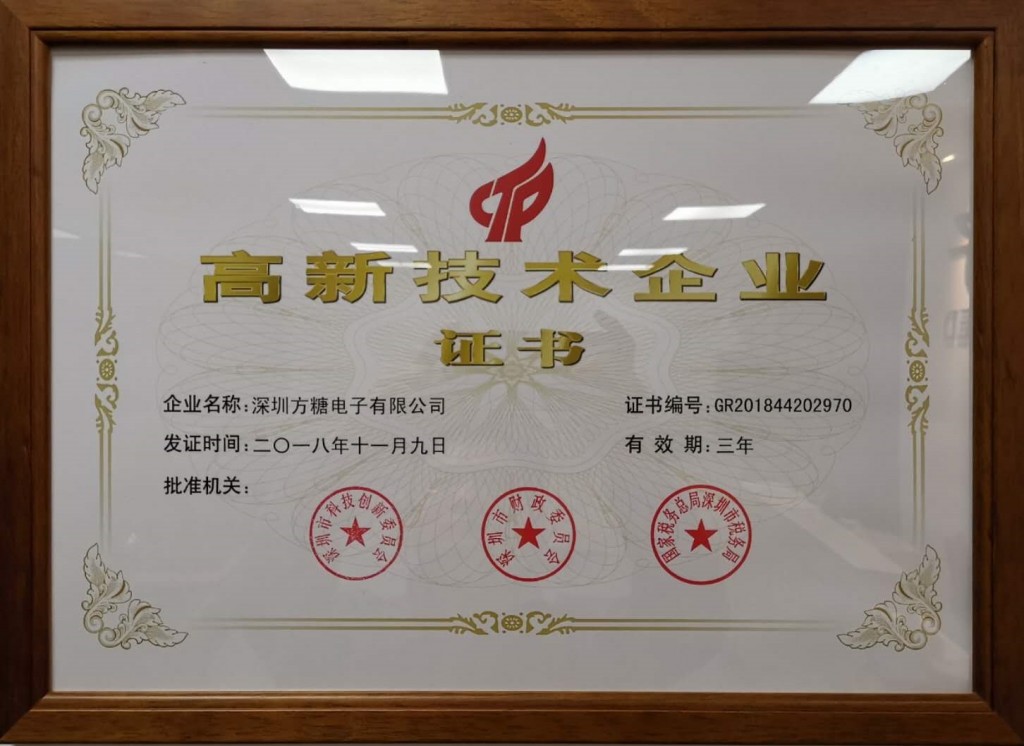 High-tech enterprises refer to those enterprises engaged in research and development, production and marketing, consulting services and other activities in the fields of high-tech, which have strong technological innovation ability and certain forms of intellectual property rights. These enterprises are important carriers for the development of high-tech and industrialization, and the leading force for the rapid and stable growth of the national economy.
The state level is the highest level of high-tech enterprises, which contains abundant gold. The national high-tech enterprises can enjoy substantial tax preferential policies, and receive preferential support from government science and technology projects, research and development funding and other policies.
Acquiring the title of national high-tech enterprise certificate is the affirmation of Cubietech strength, and it also increases the enterprise's development and confidence in foreign cooperation.
方糖电子获得国家高新技术企业认定
高新技术企业是指在高新技术领域从事研究开发、生产销售、咨询服务等活动,具有较强的技术创新能力,拥有一定形式的知识产权的企业。它是发展高科技、实现产业化的重要载体,是实现国民经济快速、稳定增长的主导力量。
国家级为高新技术企业最高级别,含金量十足,国家高新技术企业能享受实实在在的税收优惠政策,以及优先获得政府科技计划项目、研发经费资助等政策支持。
获得国家级高新技术企业的称号是对方糖电子实力的肯定,同时也增加了我们公司发展、对外合作的底气和信心。