CubieBoard6 is an upgraded product of CubieBoard2 which was launched as early as 2013. CubieBoard2 is a very tiny, low cost, and richly functional open source hardware, some people call it embedded single board computer as well. In order to reused the CubieBoard2's hardware ecosystem, we tried our best to make it be compatible with CubieBoard2 in hardware, such as board shape, board size, interface locations, and the function of expansion pins. Even so a small number of the expansion pins are not identical in function, since these two boards adopt the different main chips.

In CubieBoard6 we adopt S500 main chip from Actions Technology Co. Ltd, which is a very cost-effective Quad-Core application processor. What's the most important thing is that Actions is willing to support open source world without considering the early cost.

This year (2017), Quad-Core processor is becoming the main requirement of various embedded devices. The S500 which integrated Cortex-A9 Quad-Core CPU and PowerVR SGX544 GPU is a very good solution choice. Functionally, we make it support 2GB LPDDR3 that has the big capacity but with smaller size. We make it support Wifi & Bluetooth in the same board size with the CubieBoard2, it's a rare product in open source hardware industry. In order to meet more and more mobile applications, CubieBoard6 also supports 3.7V Li-Po battery power supply, which make it doubly less competitors.

What needs to be emphasized is software aspect, with the strongly support from Actions team, the Linux drivers of exclusive hardware IPs in the S500 main chip are not acephalous issues any more, such as GPU, VPU, Decoder, Encoder etc… So that we can offer you more and more mature Linux distributions even for commercial purposes with the open source community promotions.

Product Information
Name: CubieBoard6, CB6 for short
Property: Software open source, Hardware open, Production materials closed
Owner: CubieTech Limited
Chipset: S500 of Actions Technology Co. Ltd
System: Android, Debian, and many Linux distributions…
Target: Developer, Geek, Maker, Student, Scholar…
Product Introduction
CubieBoard6 is a upgraded model of CubieBoard2, the performance has been greatly improved because of the quad-core main chip S500. Not only that, the CubieBoard6's features also become more rich, even equate to the CubieTruck, aka CubieBoard3, in such a small board size. CubieBoard6's board size is 100mm*60mm, only 65% of the size of CubieBoard3. It makes CubieBoard6 to be a very playable open source hardware products, and can be use in more application areas.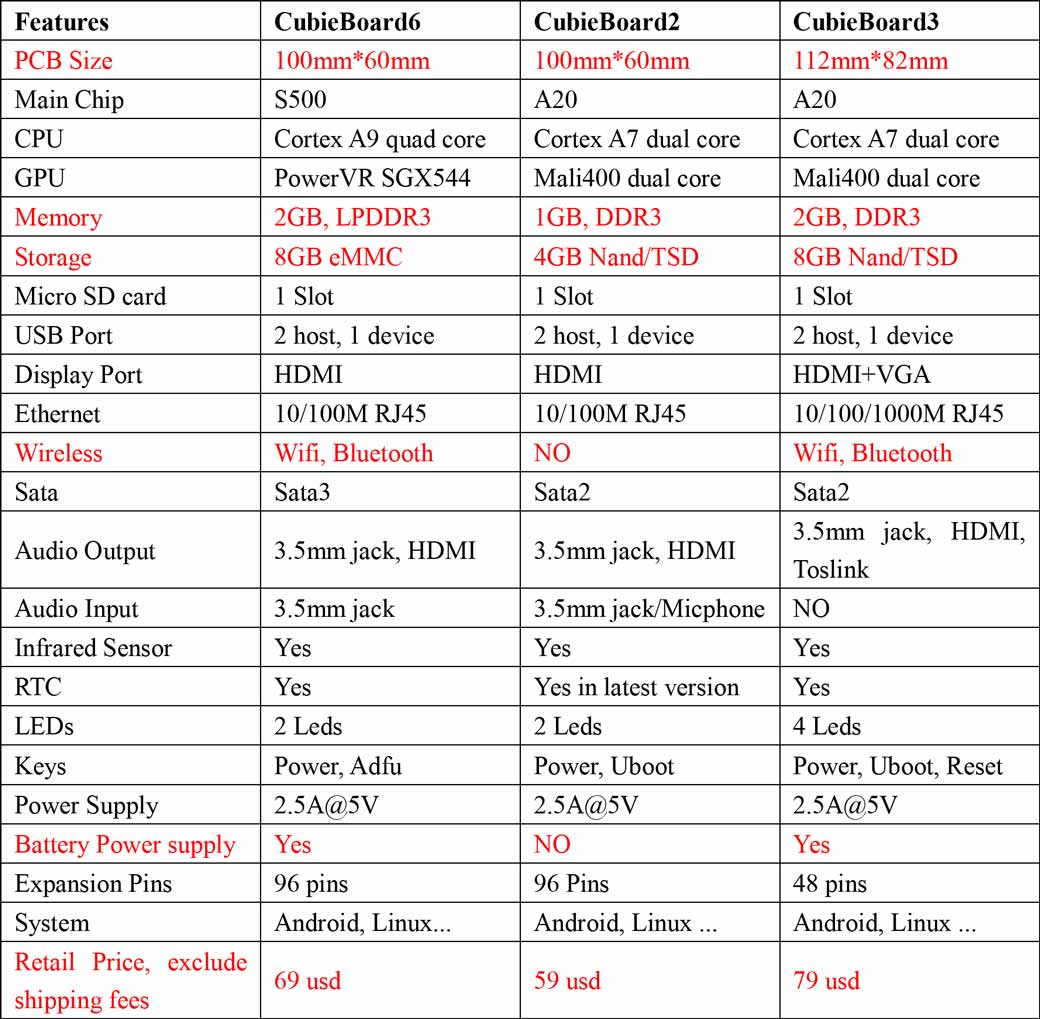 CubieBoard official team will continually maintain Android, Debian, Debian Server operating systems. Many other open source distributions would support it as well. Now we can offer Android 5.1.1, Debian Linux distribution based on Linux kernel 3.10… We believe CubieBoard6 will provide very large application opportunity for makers and startup team in products development stage.
Product Features
1. SOC: Actions SOC S500,ARM Cortex-A9 Quad-Core CPU,Imagination PowerVR SGX544 GPU
2. Memory: 2GB LPDDR3
3. Storage: 8GB eMMC
4. Card: Micro SD card slot, up to 32GB
5. SATA: Support 2.5 inch HDD/SSD up to 4TB
6. USB: USB HOST Port x2, and USB Device port x1
7. Display: HDMI Port A, HDMI V1.4a, support 1080P@60Hz resolution
8. Ethernet: 10M/100M RJ45
9. Wireless: Wifi 2.4GHz, 802.11 b/g/n, Bluetooth 4.0 (HS) BLE
10. IR: Infrared remote receiver NEC standard
11. Audio: Support 3.5 headphone jack for Audio output, Support 3.5 jack for Line-In
12. Power: DCIN 5V@2.5A power, Support USB power input
13. Battery: Support 3.7V Li-Po battery power the board
14. RTC: Support RTC circuit and RTC rechargeable battery 3.0V
15. Keys: Power key, ADFU key for reflashing the ROM/Image
16. LEDs: Power Led x 1, User Led x 2
17. Expansion Pins: I2C, FM-IN, ADC, CVBS output, Audio output, RGB, LVDS, Mipi DSI, DVP, MIPI-CSI, SPI, HSIC, INT GPIO…
Other Specifications
Operating Temperature: -20℃~70℃
Environment Friendly: RoHS
Board Size: 100mm*60mm*18mm
Radio Standard: Fcc & CE compatible
Packing Weight: 196g
Packing Size: 148mm*100mm*69mm
Development Materials
Technical Website: http://cubieboard.org/
Resources Download in China: http://pan.baidu.com/s/1bppHqwf#list/path=%2FCubie_Download_CN%2FBoard%2FCubieBoard6
Resources Download Oversea: http://dl.cubieboard.org/model/CubieBoard6/
Distribution contacts: sales@cubietech.com
Technical contacts: support@cubietech.com
Distributor: http://cubieboard.org/buy/